Yay for Thursday- my fourth favourite day of the week!! I thought I'd do a round of Christmas confessions today just to mix it up a bit:
- In my mind, and I'm okay if you disagree with me, after Halloween is too early and as I'm not American, after Thanksgiving is too late. We usually begin our Christmassing either after Divali or Remembrance/Memorial Day.
- I'm not the biggest eggnog fan. Like I'd never have an eggnog cake or latte or anything (ugggg) but my family is. So once or twice for the season, I'll have a (very spiked) drink with them and I wholeheartedly enjoy it.
- We will probably never get a real tree. We love putting up our tree waaay to early and put too much work into it to get a real one. Also, my perfectionist pathology with anything less than a totally symmetrical tree and husband's bad back will not allow it anyways.
- Speaking of perfectionist pathology- when my kids put all of the same ornaments on one branch on one eye level, I'm okay to move them to more aesthetically pleasing locations.
- The recipe for hot buttered rum made me gag once.
- D and I went to see the Nutcracker before we had kids. It was long. After we were done, he muttered, "Well that's two hours of my life, I'll never get back."
- I still say "Merry Christmas."
- Santa and elf threats are awesome. I use them very strategically. #parentoftheyear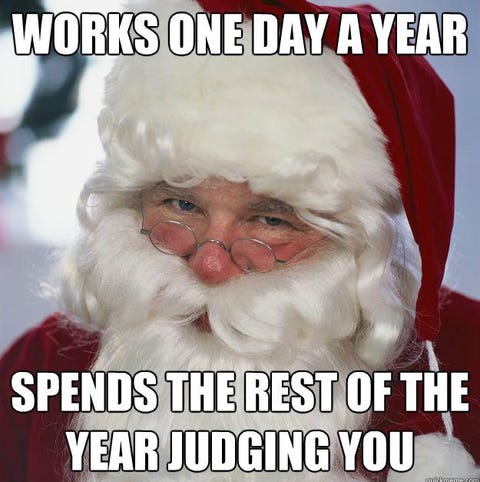 or I can do this...
- I reuse Christmas ribbon like someone's granny even before it became cool to reuse stuff. I make nice bows and glue gun them to the package. I draw the line at reusing wrapping paper though- sorry mother-in-law :-).
- Speaking of my mother in law, she wraps the neatest most beautiful presents and it relaxes her. Let's just say the last couple years when she came to visit at Christmas time, wrapping was awesome!!

- When I'm in full on wrapping mode, my bedroom looks like a toddler rampage. Oh the mess!!!
- I've never had figgy pudding and probably never will.
- I like my house sparkly and clean before I go to bed on Christmas Eve! Nobody wants Santa to see their dirty house and put them on the naughty list.
And finally, just some Christmas funnies to make you chuckle!!
Have a wonderful season, friends!!! Oh and Merry Christmas ;-)